Ben Morphew
N868K, sn BLM-2, C of A issue 9-14-2011. Ben Morphew builder. 150 Lycoming 0-320-E2D. My second Breezy.
The airplane has older Wag Aero kit wings....built up Piper ribs with wood spars, Tri Pacer tanks, aileron system inside the wings, and J-3 style ailerons. Has a 600X6 nose wheel and mains from Grove Aircraft. Also using one of their Piper style master cylinders.
Got the idea of the instrument pod from UFlyIt LSA company in Florida. It has the color in the gel coat. He has a larger model also and is around 130 bucks. Check his web site for other models and colors.
New cylinders on an older overhaul but things looked great inside especially the cam and lobes. Engine originally on a 172 from Japan with complete translated records. New mags, 10-5217 carb, harness, akro style lord mounts (harder style), oil pump and crank AD. Nine cell oil cooler and with temps in the 90's oil temp is 175 and 75 psi. Steve's Aircraft fuel filter.
The engine was moved forward about 4 inches for CG reasons. The aircraft is right on the aft CG limit (37% MAC) with fuel fuel and two people but has NO problems with any flight regimes. The rear seat is at ''0"' so even solo the CG only moves to 38% MAC which is the aft limit for the PA 12/14 series. The rear spar ''tower'' is actually a kind of a ring spar to allow the engine to be moved. If I were to do a ''do over'' I'd probably use a straight mount style which would give me almost the same engine placement. The mags are even with the forward rear spar attach plate. I can actually hold the nose off for quite a while and ''fly'' it on to the runway instead of it slamming down on it's own.
So far the engine has broken in nicely and runs strong. It has a Sensenich 72 inch prop that turns a static of almost 2600 rpm. I was going to change this but it gets off and climbs so well I think I'll just leave things alone. Cruise for this combo is 2100 rpm @ a nice comfortable 55 mph.
Gross was set at 1,500 lbs. Empty was 901 lbs. Tried everything to bust 900 but just wouldn't happen. At full gross power on stall is 35 mph, power off is 40 mph. A little slower at lower weights.
I re-worked the aileron throw so you don't have to splay your legs out to get full aileron. At the speeds we operate the ailerons don't feel any heavier than a normal J-3. I still have a lot of stick friction due to the new construction so thing will limber up a bit later. I only have a battery and no electrical system. Right now I'm using a Concord RG25XTC because I had it in stock but might change over to an Odyssey battery later. No trim system.
With the engine moved forward, the CG isn't a problem as with some other higher horse power engines. The takeoff and climb is fantastic. Cruise isn't a problem because we don't build these for speed. The wheel pants are a trade mark of mine but they also keep a lot of debris from hitting the wings or going into the prop.
The seats are older style bucket seats from J.C.Whitney for a Jeep. The bucket style gives a level of security no doubt to the effect of the bucket style. They are light plastic coated foam I believe.
Right now I plan on changing nothing. We had just the normal new flight squaks but all that was corrected quickly. I also was lucky and no wing heaviness was noted. The larger nose wheel seems to be a good change...I use 10 psi and it seems to do well at that pressure. Waiting to see if any cracks appear in the nose gear area that usually pops up. Totally happy with the airplane. I missed my first one so much but couldn't get the new owners to sell!! Wonder why?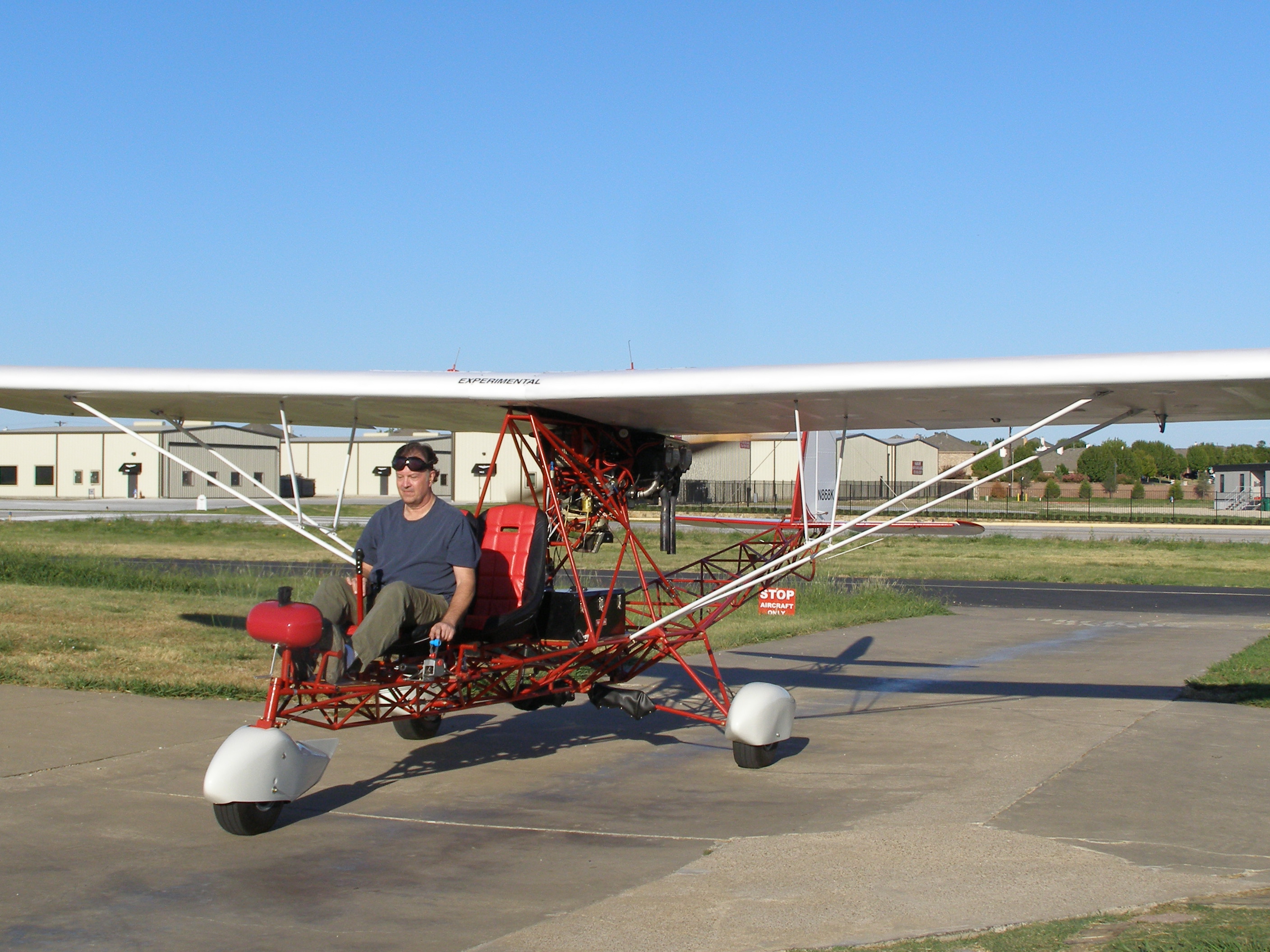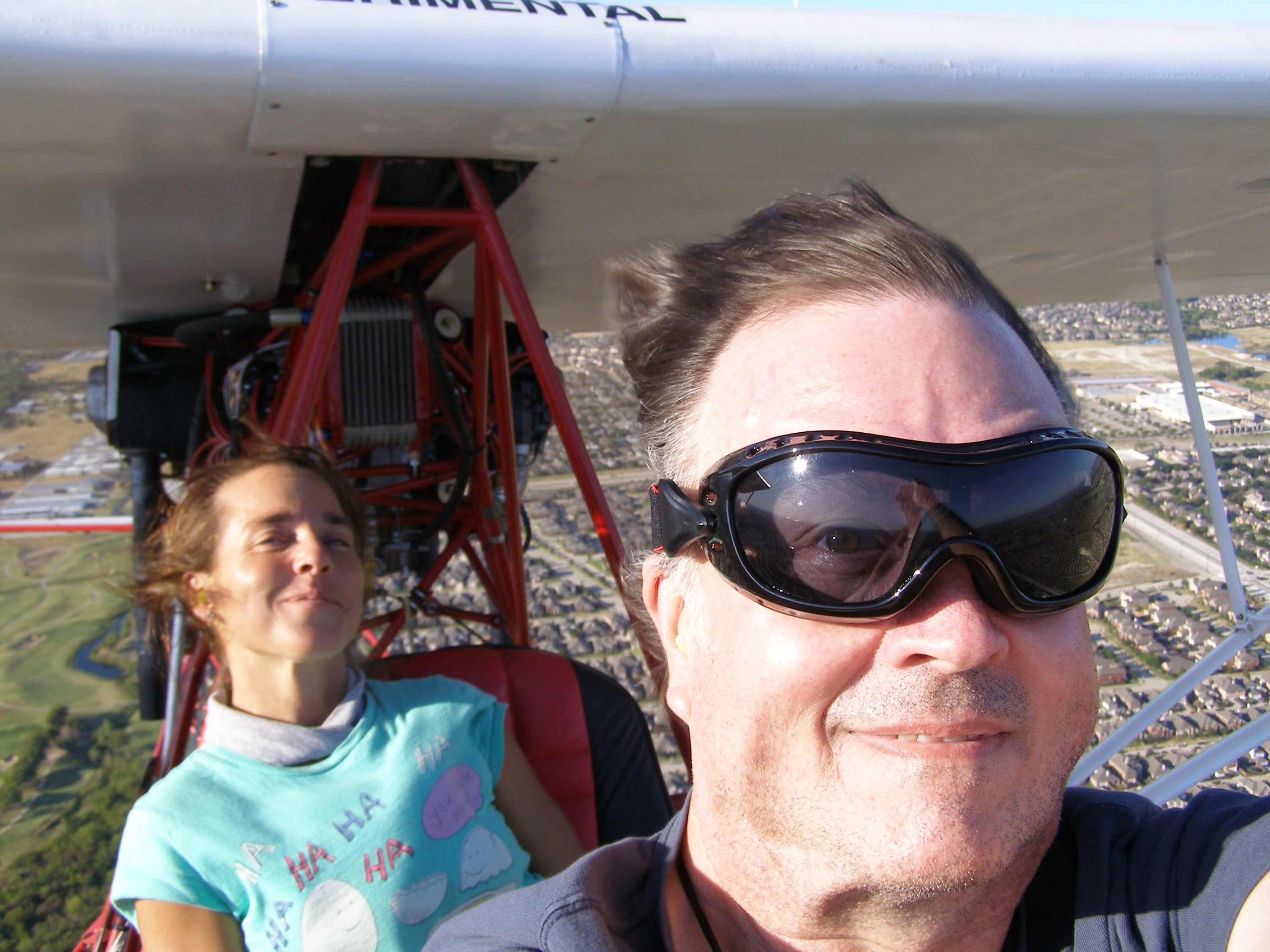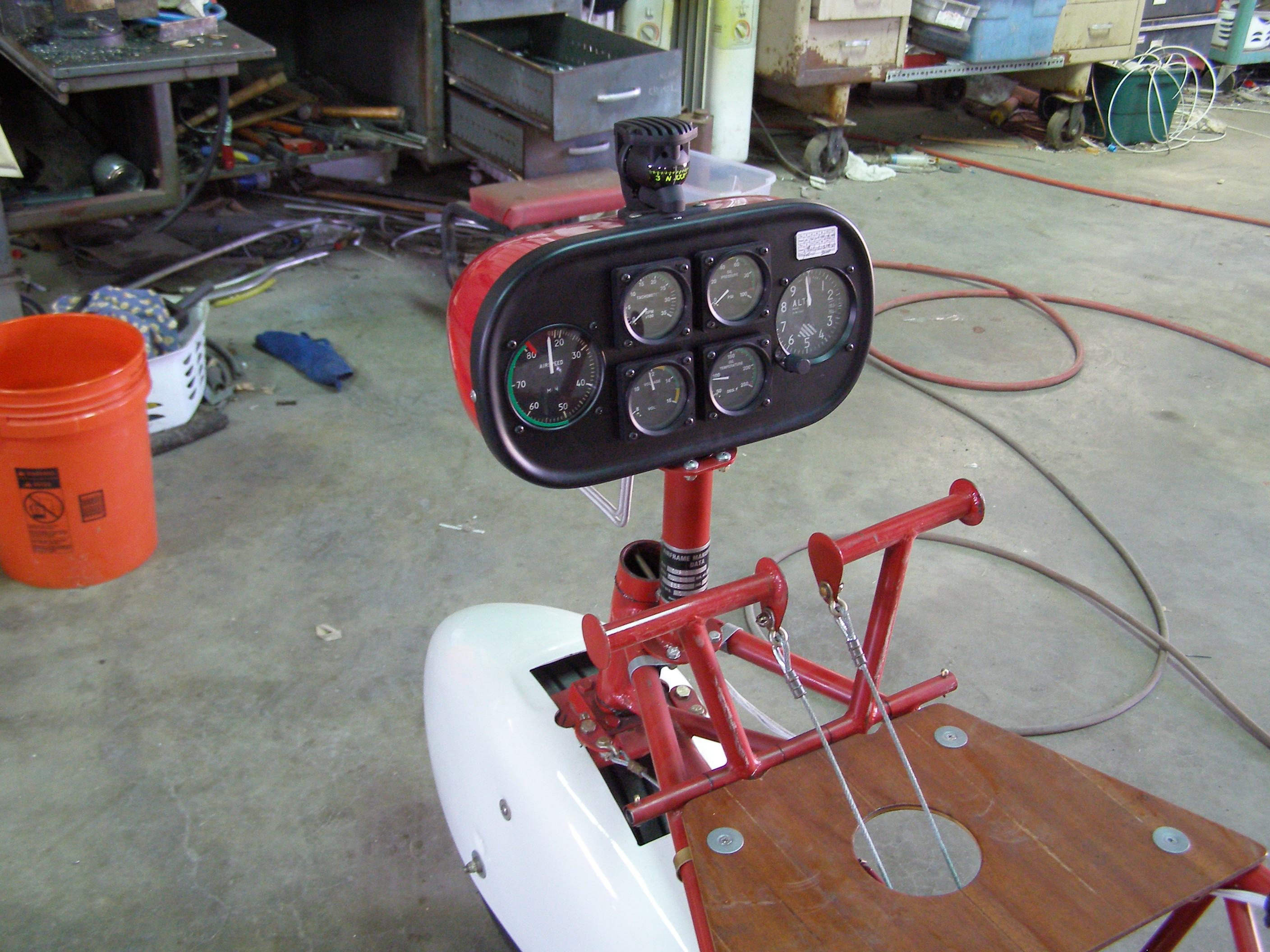 Hello!!
Thanks for creating such a great website! My Breezy NX1903 is flying at Deer Valley Airport on the north side of Phoenix. There have been some teething problems first with the fuel line being routed too close to the engine causing it to vapor lock on hot days and then with the radio. Most everything is working now and it is a blast to fly. It was originally built in Kansas City in 1976 by Virgil Chapman and passed through many owners until I bought it ten years ago minus engine and stripped of all usefull parts. After new fabric, replacing every nut,bolt and wire as well as rebuilding a Cont 0-200 and a three blade pusher prop it is finally done.
Now the really wierd twist I did some major arm twisting a few years back and got a set of Hoffman H-2 flyingboat plans like the one you have. I have collected and engine, stacks,, a brand new set of PA-18-90 wings from Univair, instruments, belts, struts, and the reconditioned two blade prop off of the Breezy so things are slowly progressing. I have to finish refabricing my glider (Marske Pioneer) then I can really get down to work on it.
Mark McLaughlin

Here are some some pictures of my Breezy. I had to buy it from another. I bought plans several years ago, but couldn't get started and I didn't trust my welding. When this one became available, I bought it. I haven't given up on the desire to build one though. This on was built by an individual in California in 1970-71. I feel it is very well built and has almost every option I would have put on one if I were to have built it. It truely brings back my love for flying. This, I'm sure you know. Thanks for building this website. Mark McLaughlin in McKinney, Texas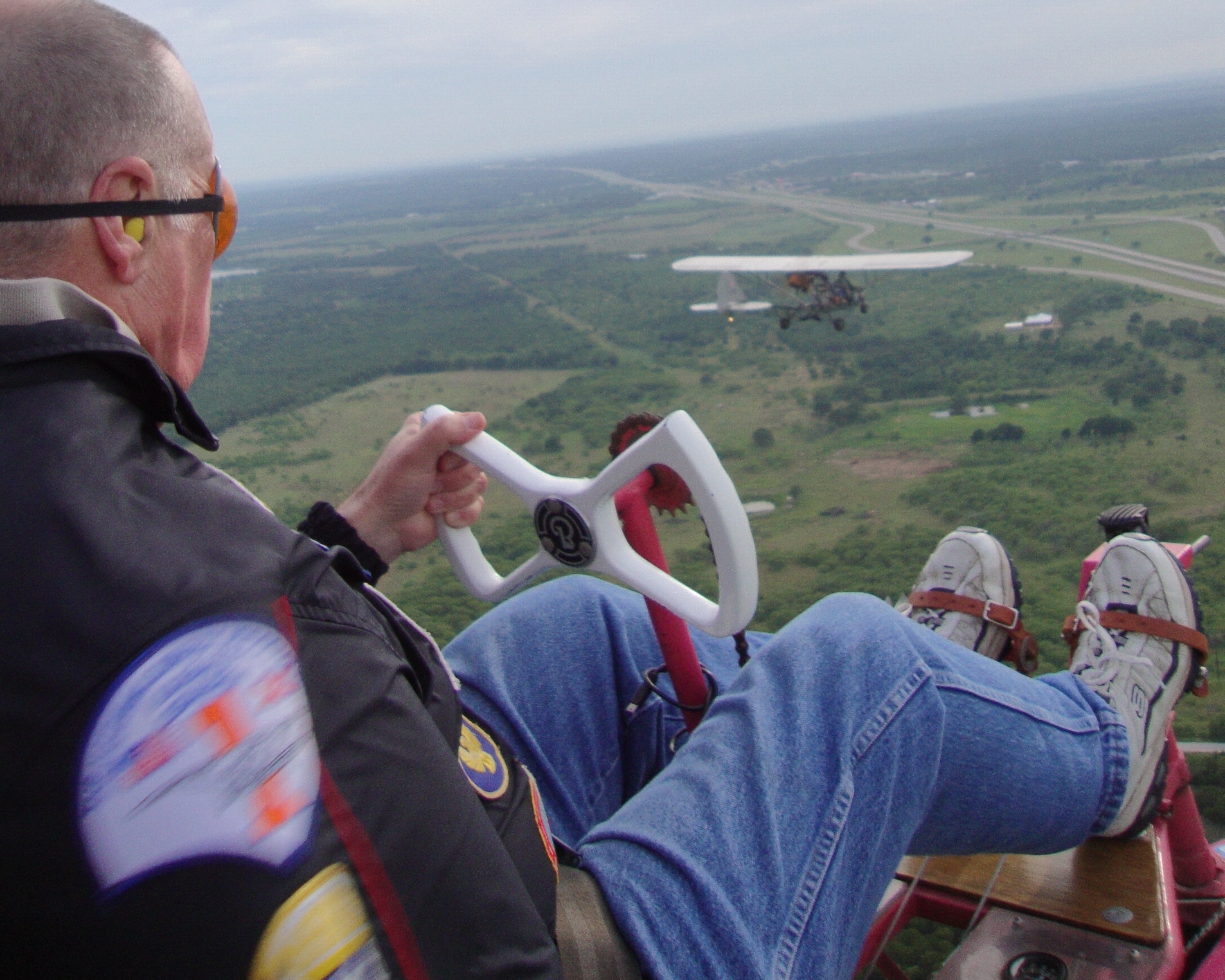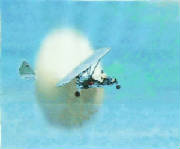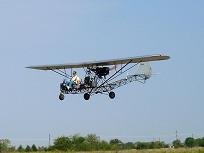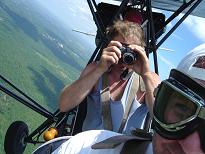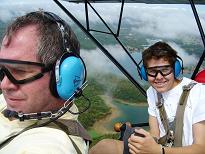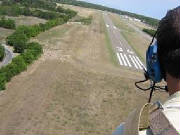 Mark McLaughlin having some Texas Breezy fun!
Bob Ferguson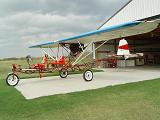 Here is a picture of N2434, based at Gundy's (O38) in Owasso, Oklahoma (surburb of Tulsa).
Airplane has Harley wheels, removable rearseat controls, 150 HP Lycoming O-320 and fuselage is stretched 8 inches up front for geater comfort for our longer-legged pilots. 1500 pounds gross weight.
Owned by Wind In Your Face LLC.
Originally built in 1971 in Little Rock by R.V Stewart and E.E. Anderson. Many owners since then. We have had it since 1995!
Bob Ferguson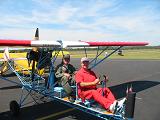 Picture of Apollo Astronaut Frank Borman with Bob Ferguson on Breezy at Claremore, Oklahoma during airshow for Make-A-Wish, 2003. Breezy was built in Beggs, Oklahoma in 1976 and still flys in the Tulsa area from Gundy's (O38). One of three Breezys active in Tulsa.
Ron Cross and Terry Capps
Ron Cross and Terry Capp's Breezy incorporates a modified control system and center instrument stack, a Lycoming 0-290-G 125h.p., J-3 wings and modified tail section, 23 gallon center fuel tank, Hegy 68" x 43" wood prop, 6 x 6 cleveland wheels and brakes. Empty weight is 1062 pounds.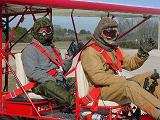 Terrorist alert raised to Red in Pell City!....or, What the best dressed Breezy pilots wear for winter flying!
You could almost get an instrument ticket with this set up!
Wally Weishaar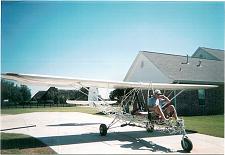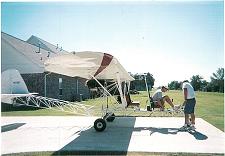 Wally Weishaar's pretty white Breezy.
Wally writes;

"The logs indicate that it was built about 1970. The first log entry is of a taxi test. The builders were Earl Tomblingson of E.Alton, Ill. and Lanny Joe Leathers of Wood River, Ill. The wings are metalized Cessna 120 wings. The original engine was a cont 85. It was replaced with a cont O-200 100hp in 1980.

The builders must not of been very impressed with it for they sold it in June of 1970 with 52 hrs on the plane. The logs show a long 2 day, 17.5 flt hr. journey to Hamilton Tx. The plane has been in Texas ever since."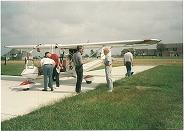 Wally continues;
"The breezy got a whole new look in 1990 (refer to picture above)sporting nav lights, strobe, com radio, intercom and a x-ponder w/mode c!! It got back to basics about 1998."
Gary Wilshire
Gary Wilshire recently sold this Breezy (N79WL) after a 2 1/2 year love affair with it. This particular plane was put together in 2000, so it is a low time bird. It has a Lycoming O290, 135 HP for power. It has dual flight controls (sticks) and Cleveland wheels and brakes. The logs show the wings from a J-5. and the fabric is Ceconite.
Bill Dixon

Happy New Year Gary,
Not exactly Breezy weather here in Michigan...5 below zero this morning...the old Chevy groaned for a bit but came through for me anyway!!!
Good news, I have finally sold all of my parts from the project Breezy. I thank you very much for posting it all for so long on your site. I guess this means you can remove the ad from the site if you wish. By the way, I did get lots of interest from your readers.
Bad news, I may need to sell my flying Breezy soon. I'll know for sure in a week or so. I just bought half interest in a beautiful 1958 C-182 and am going to need some gas money for the hog on wings.
Also, I am sending you pix of my Breezy finally for I have just learned how to do such things (stupid simple).
Bill
UPDATE!!! The gang in Pell City AL now own Bill's nice Breezy....that makes 3 in their contingent!
Richard Shennan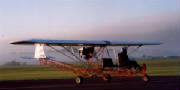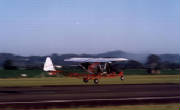 Dear Sir,
Just got back from the aerodrome after 1.2hrs in/on our Breezy, VH-BLO.
Good to see someone has finally got a Breezy website up and running. At last
I can talk to people who can understand what I'm babbling about!

My friend, Jim Williams, and I have recently completed our Breezy and have
it up and flying. I came into the project at about the halfway point and saw
it through to completion (four years later!). The first flight (unofficial)
was the 17th December 2003 at 0702hr, 3hrs 33min short of the Wright
brother's 100th anniversary (it would be interesting to know how many other
aircraft had their first flight on that day). It was flown by an instructor
friend, Steve Curtis, for three hops along the runway in each direction. He
later did one complete circuit on a cold morning but had his goggles fog up
halfway around and had to almost guess where the runway was!

Since then I have done all the flying up to eleven hours, including a forced
landing through a wire farm fence when the prop split at 1200ft agl. My wife
was not impressed!

I would be interested to hear what sort of figures you get out of your
Breezy. Our's is powered by a Continental 0-200 with a 70"x42" wooden prop
but we can only 2300rpm static and 2400rpm max. in flight for a cruise speed
of about 55kts.

So long for now,
Richard Shennan,
Camden
Australia
Norris Warner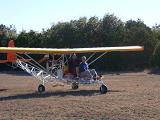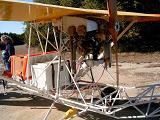 Norris Warner has just begun flying his Breezy, N35XX. It has a C-90, starter & generator, Piper airfoil, and weights 878 lbs. empty.
Bill Keller
Bill Keller writes;
"My Breezy made its first flight on June 20, 2004. The N # is N59BL. The aircraft is scratch built with Cessna 150 wings and powered by a Lycoming O360-A4K (180HP). You never can have too much horsepower. The weather this summer has been pretty miserable in the mid-atlantic so I've only been able to put about 20 hours on it."
"Empty weight is 1010 lbs, it flies hands off, I have electric trim, and it fairly leaps off the ground. I don't know the top speed because I pull the throttle back once airborne, (if I wanted to go fast I would've built something else) and landings happen so fast that I've never looked at airspeed but I expect that it stalls at the same speed as a C150."